Tuesday, December 13th, 2011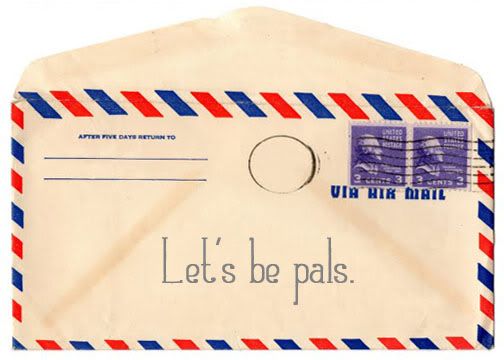 Hey you. Yeah, you…you want to be penpals? Yes, penpals. Just like in the 2nd grade where you wrote letters to other little 2nd graders around the world and told them about your new barbie or hot wheels and they wrote back and you were super excited to get a piece of mail with your name on it…Wasn't that fun??
Well I want to start a penpal project. But instead of writing out long letter updates, because A. Who has the time to sit and write letters when life is going on and B. Most of us have blogs that we update the world with our lives , we would use postcards.
I have been collecting postcards for as long as I can remember. I love them. They are a great way of getting a piece of art for cheap, just stick one in a frame and BAM, mini framed art! Or get some double sided tape and bust out your collage skills on your walls…there are so many possibilities.
So here is how it would work: You will email me your address, I will then find the most awesome postcard you have ever seen in your life
write you a little note and send it out to you. Then when you receive your postcard you will do the same for me. As the penpal crew grows, and hopefully it does, you will be asked if you would want to exchange address' with other people who are participating and spread the love all around the world.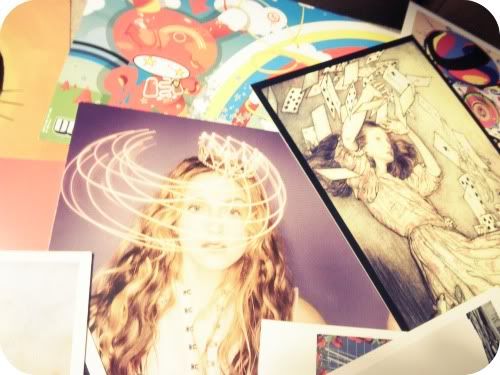 (yes..these are some of my MANY postcards)
But arent people doing this already? Yes, but this is more for us, my peeps, on a more personal scale.
Whoa, I'm a little iffy about  giving out my address…how do I know you aren't going to come stalk me?  Safety and trust are a big thing for me.I will never sell anyones information (name, address, email, etc.) for any reason or send harmful materials , which is against the law, through the mail.   We will be working by the honor system, I am not a big company trying to make money off of this project and in return I want the same trust with you guys. So, once again, there will be NO selling of information or sending hate mail or anything along those lines. Let's be nice people.
Ok,  so what's the point of this whole thing? The point is to do something creative and nice for one another. Now a day's its all about email, twitter, facebook and text and about half the real  mail we get are bill's, past due notices or junk mail. We all have pen's and pencils who miss us so why not bust them out to tell someone they matter. The message doesn't have to be long, it could be your favorite quote, or just saying they are beautiful. You can even put a bunch of stickers or rubber stamps on the postcard that will make someone smile =) Anything your heart desires, as long as it's coming from a good place. You never know who's day you might change…flipping through a pile of bills feeling down and all of a sudden there's a postcard from someone across the way who you may not know telling you you are awesome.  It's all about spreading the love♥
Sounds good, I'm in! Now what?  Now you send me your info: name, the address you want your card sent to, and if you have a blog or website that you want shouted out you can send that too. 
BUBBLEGUMPONYS@YAHOO.COM  put Postcard Penpal in the subject line.
I will be blogging about this project which means I will be taking pictures of the postcards (no address will be shown) and posting who they are from (first names only) along with a link to your site /blog you give me, unless you do not want me to. Just let me know in your email.
I'm pretty excited. I have never done anything like this before and I can't wait to send out my first postcard. Will it be to you?? 
You can grab the button I made to let people know you are a Postcard Penpal with BGP: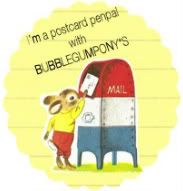 Here's to getting my New Years resolutions started early!
xoxo
jewels
ps. this shouldn't cost anyone more then $2 bucks, with the postcard and postage included. I know here in the states to mail out a postcard is about 25 cents and you can find postcards for 75 cents. I know times are rough and I'm not trying to empty anyones pockets =)